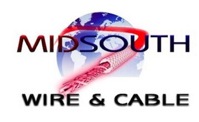 The Wheelock Series PS-6 and PS-8 are 24VDC, filtered and
regulated, supervised remote power supply/battery chargers are
used for supervision and expanded power driving capability of Fire
Alarm Notification Appliance Circuits. The PS-6 provides 6 amps of
power distributed across 4 outputs, while the PS-8 provides 8 Amps
across 4 output. In addition the PS-8 provides additional room in
the chassis for accessories like an Addressable Control Module, with
mounting studs.The PS-6 and PS-8 Power Supplies are UL Listed under UL
Standard 864, 9th Edition to be used with any 24 volt Listed
Regulated notification appliances. They include the capability
to synchronize Wheelock strobes and horns and to silence the
horn signal when horn/strobes are operating on two wires.

The PS-6 Power Supply available from Cooper Wheelock Notification. Both the PS-6 and the PS-8 are part of Cooper Notification's Wheelock product supply line. The PS-6 is designed to provide lower notification appliance circuit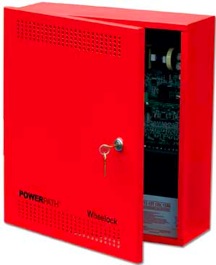 WEB PRICING:
PS-6 @ $396.00 Each
PS-8 @ $429.00 Each
The Power Supplies may be connected to any 12V or 24V (FWR or
DC) Fire Alarm Control Panel (FACP) by using a Notification Appliance
Circuit (NAC) or a "Dry Contact". Primary applications include NAC
expansion (supports ADA requirements) and auxiliary power to
support system accessories. This unit provides filtered and regulated
24VDC, up to four (4) Class "B", two (2) Class "A", or two (2) Class
"B" and one (1) Class "A" Notification Appliance Circuits. With the
optional plug-in PS-EXP module the unit supports (8) Class "B" or
(4) Class "A" Notification Appliance Circuits. Additionally, an auxiliary
power output of 2.5 Amps (disconnected upon AC power loss or an
alarm condition) or up to 0.240 A of constant power on the PS-8 and
0.075 A of constant power on the PS-6.
The Wheelock Power Supplies can accommodate 7 or 12 AH batteries
inside its lockable chassis. Using an external battery cabinet it can
charge up to 33 AH batteries (pending UL testing). Two FACP NAC
circuits or two "Dry" contact initiating circuits can be connected to the
inputs. These inputs can then be directed to control supervision and
power delivery to any combination of the four (4) outputs. Each output
is rated at 3.0 Amps (Class "B") or (Class "A") and can be programmed
to generate a steady or Code 3 Temporal Horn sound and a strobe
output under alarm condition. Total load for the PS-6 and PS-8 NAC
circuits must not exceed the power supplies rated output.
The Power Suppliesunder non-alarm condition provides independent
supervision for Class "A" and Class "B" FACP NAC circuits. In the
event of circuit trouble, the FACP will be notified via the POWERPATH
steered input (IN1 or IN2). In addition there are two sets of trouble
reporting terminals, one used for AC power loss reporting and the
other for all troubles. The AC power loss reporting, on the common
trouble terminals and on IN1 or IN2, can be delayed for either 30
seconds or 170 minutes. The AC power loss terminals will always
report the trouble within 1 second after loss of AC power.
Approvals
• Approvals Include: UL Standard 864, 1481, California State
Fire Marshal (CSFM), Factory Mutual (FM)
• Pending: New York City (MEA), Chicago (BFP) See
Approvals by model in Specification and Ordering
Information
• Compliant with NFPA 72
Inputs
• 120VAC, 50/60Hz, 4.25 Amps (PS-6/8) and 5.32 Amps
(PS-8) Operating Power in Alarm
• 240VAC, 60Hz, 2.42 Amps (PS-6E and 3.22 Amps (PS-8E) '
Operating Power in Alarm
• 24VDC Battery Backup Connection
• Two (2), 12V or 24V NAC Initiating Circuits (8-33V at 5mA)
FWR or DC
• Two (2) "Dry" Contact initiating Circuits
• Accepts two (2) Class "A" or two (2) Class "B" circuit inputs
• Built in battery charger for sealed lead acid or gel type
batteries


Outputs
• NAC outputs are 24VDC, 3.0 Amps each, power limited
• 8 Amps on PS-8 and 6 Amps on the PS-6 total alarm current
• Capable of four (4), Class "B" circuits
• Capable of two (2) Class "A" circuits
• Capable of one (1) Class "A" circuit and two (2) Class "B" circuits
• Capable of (8) Class "B" or four (4) Class "A" circuits with optional PS-EXP module
• Temporal (Code 3), constant voltage output, Wheelock Sync output or True input to output follower mode
• Built-in Wheelock synchronization mode that can be fed to any or all of the output circuits
• Input and output can be synchronized with "IN>OUT SYNC" mode (SM, DSM, 2nd POWERPATH™ or FACP with
synchronization protocol is required)
• Audible silence capability
• Filtered and electronically regulated output
• 2.5 Amp auxiliary power limited output with reset capability. (Removed upon AC loss or alarm. Automatic reset 30 seconds after
AC power returns or the alarm condition is over) or 0.075 Amps (PS-6) or 0.240 Amps (PS-8) of auxiliary power limited output
which remains on during AC loss or an alarm condition when configured for 24 hour battery backup

Prices are subject to change without notice. Inventory is subject to prior sale. Product design, specifications & construction are subject to change without notice. Pictures are for general representational purposes and may not represent actual product. Not Responsible for errors in print, verify all data with us or manufacturer. Terms & Conditions of sale apply, for a copy contact us. Products may be discontinued without notice. Pricing Does Not Include Freight Costs. All trademarks remain the property of their respective holders, and are used only to directly describe the products being provided.