Signamax 10/100BaseT/TX to 100BaseFX Switching Fiber Optic Media Converters
Check out our low Discount Prices

065-1100 Fiber Optic Media Converter is a 10/100BaseT/TX to 100BaseFX Media Converter ST Multimode, 2 km Span
065-1110 Fiber Optic Media Converter is a 10/100BaseT/TX to 100BaseFX Media Converter SC Multimode, 2 km Span
065-1172 Fiber Optic Media Converter is a 10/100BaseT/TX to 100BaseFX Media Converter MT-RJ Multimode, 2 km Span
065-1174 Fiber Optic Media Converter is a 10/100BaseT/TX to 100BaseFX Media Converter LC Multimode, 2 km Span
065-1120 Fiber Optic Media Converter is a 10/100BaseT/TX to 100BaseFX Media Converter SC Singlemode, 15 km Span
065-1120ED Fiber Optic Media Converter is a 10/100BaseT/TX to 100BaseFX Media Converter SC Singlemode, 40 km Span
065-1120XLD Fiber Optic Media Converter is a 10/100BaseT/TX to 100BaseFX Media Converter SC Singlemode, 75 km Span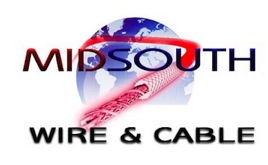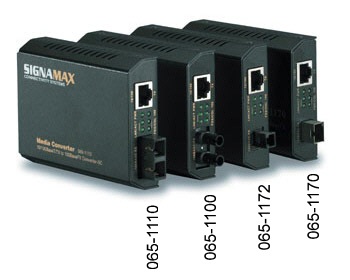 065-1100
10/100BaseT/TX to 100BaseFX Media Converter ST Multimode, 2 km Span
List Price Each: $171.00 / WEB PRICE: $121.00 Each
065-1110
10/100BaseT/TX to 100BaseFX Media Converter SC Multimode, 2 km Span
List Price: $171.00 Each / Web Price Each: $121.00
065-1172
10/100BaseT/TX to 100BaseFX Media Converter MT-RJ Multimode, 2 km Span
List Price Each:$298.00 Each / WEB Price Each: $194.00
065-1174
10/100BaseT/TX to 100BaseFX Media Converter LC Multimode, 2 km Span
List Price Each: $298.00 / WEB Price Each: $194.00
065-1120
10/100BaseT/TX to 100BaseFX Media Converter SC Singlemode, 15 km Span
List Price Each: $424.00 / WEB Price Each: $289.00
065-1120ED
10/100BaseT/TX to 100BaseFX Media Converter SC Singlemode, 40 km Span
List Price Each: $650.00 / WEB Price Each:$449.00
065-1120XLD
10/100BaseT/TX to 100BaseFX Media Converter SC Singlemode, 75 km Span

List Price Each: $1,210.00 / Web Price Each: $788.00
DIN Rail Mounting Brackets
065-11DINMT
DIN Rail Mounts Bracket for 065-11xx Series Media Converters
List Price Each:
Signamax Media Converters KEY FEATURES

Built-In Twisted-Pair Port 10/100 Switch

Auto-Negotiation RJ-45 Connector with Auto-MDIX

SC, ST, MT-RJ or SC Connector

LEDs for Functions, Links & Activity

Link Fault Signaling For Use with Managed Switches

1,024 MAC Address Capacity

Store-and-Forward Architecture

Full and Half Duplex Operation

Singlemode Spans up to 75 Km

Wall or Chassis Mountable

IEEE 802.3 and IEEE 802.3u Compliant

Lifetime Performance Warranty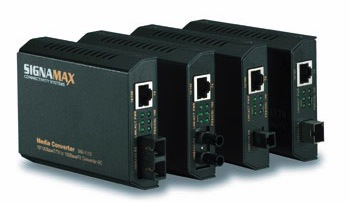 OVERVIEW

Signamax Connectivity Systems' Switching Media Converters with Link Fault Signaling (LFS) provide the means for an SNMP-Managed switch to recognize a failure on a fiber channel or twisted-pair connection, enabling the switch to automatically route to a backup path if the connected switch is equipped with Spanning Tree Algorithm. This intelligence maximizes the power of managed switches, and enables fail-safe design solutions for complex networks. These converters also extend the maximum singlemode fiber distance, spanning over 46 miles with the 065-1120XLD model.
The built-in 10/100 switch enables the fiber cable connection to operate at 100 Mbps connected to either a 10BaseT or a 100BaseTX network, while remaining completely 100BaseFX standard-compliant. Fiber connection can also operate in full duplex mode whether the RJ-45 port is connected to a full duplex switch or a half duplex hub, with the built-in switch providing the network segmentation that permits the maximum fiber distance. Each Media Converter provides a 10/100BaseT/TX auto-negotiating RJ-45 twisted-pair connector port featuring store-and-forward switching architecture. Auto-MDIX capability on the twisted-pair port allows for convenient connections.

10/100BaseT/TX to 100BaseFX Switching Fiber Optic Media Converter Converters Signamax 065-1100 065-1110 065-1172 065-1174 065-1120 065-1120ED 065-1120XLD
Prices are subject to change without notice. Inventory is subject to prior sale. Product design, specifications & construction are subject to change without notice. Pictures are for general representational purposes and may not represent actual product.
Not Responsible for errors in print, verify all data with us or manufacturer. Terms & Conditions of sale apply, for a copy contact us.
Products may be discontinued without notice. Pricing Does Not Include Freight Costs.
All trademarks remain the property of their respective holders, and are used only to directly describe the products being provided.